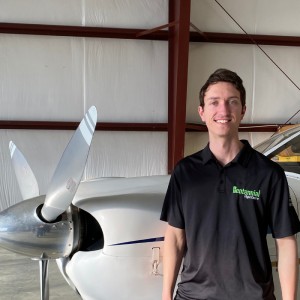 Andrew Kwiatkowski
Class One
Andrew Kwiatkowski is the Chief Flight Instructor at Centennial Flight Center. He holds a Class 1 Instructor Rating and is a Multi-IFR Instructor. He started flying before he could legally drive, and after struggling to stay awake in a dull ground school class, he resolved to teach the class himself. He's been passionate about instructing ever since and works hard to help you achieve your aviation goals.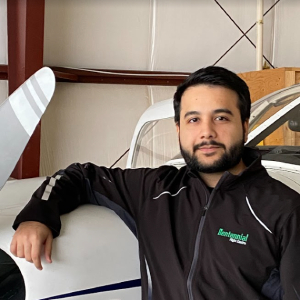 Babar Mughal
Class Four
As a kid I was always around airplanes because of my Dad working for the airlines so naturally I wanted to grow up and join the same industry. In 2017 I began my journey at Centennial Flight Centre and within a few years completed my PPL, CPL & Flight Instructor Rating at Centennial & now passing on the same excellent training onto new students as a Class 4 Instructor. Fun Fact: I completed my first solo, ppl, cpl and Flight Instructor flight tests on C-GIYT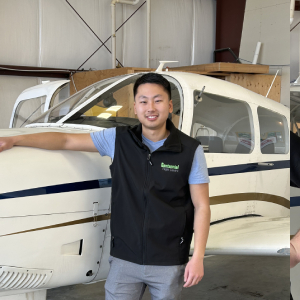 Haochen Ma
Class Four
Haochen's passion for aviation began at the age of 13 when he first flew a glider as part of an air cadet program. In 2020, he began his formal flight training and joined the Centennial team as a dispatcher. He successfully completed his PPL, CPL, Multi, and IFR certifications at Centennial and is now a Class 4 Instructor, teaching PPL, CPL, Night Rating, and VFR Over-the-Top.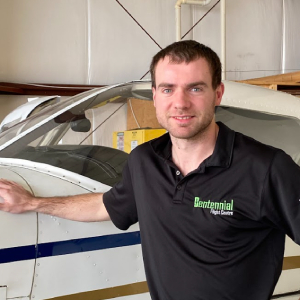 Aymeric Lagorgette
Class Four
Aymeric started to fly in 2011, I love to fly different types of airplanes, but also everything in the air: Skydiving, Gliders, Paragliding, Ultralight, Floatplane. I like the challenge, this is what brought me to the Instruction. It's so rewarding when I see my student starting to fly the aircraft by himself and getting more confident. When I'm not in flight, I like to practice sports, mostly skiing in winter, but also biking, hiking, Volleyball, Soccer and Waterpolo.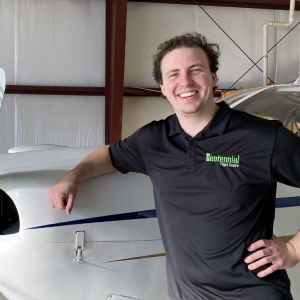 Nik Austin
Class Three
Nik joined the Centennial flight instructor team in late 2021 and is a graduate of Centennial in 2020. With almost 1000 Flight Hours, Nik has committed to providing quality instruction and love for aviation makes him the perfect addition to our team. Nik's students love his personality and his knack for sharing his knowledge clearly and in a manner that suits them.
Eric Shletz
Class One
Eric is a class 1 instructor and pilot examiner. He has been flying for over 20 years. His experience includes time on 30+ types of aircraft including multi engine turbine. He has worked with clients to complete hundreds of licenses and ratings. Eric is the premier "Instructor of Flight Instructors" in Alberta and trains the majority of instructors in the Edmonton region.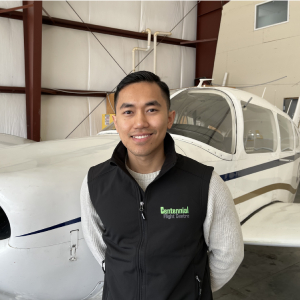 George Reboredo
Class Four
I have always had an obsession with airplanes growing up and knew from a young age that there is nothing else I'd rather pursue than a career in aviation. I started my journey in 2020 and did all my training at Centennial. After finishing my instructor rating, I now have the privilege of sharing my passion with students by helping them achieve their goals in aviation. Outside of flying I'm an avid fitness enthusiast, constantly seeking ways to improve physical performance.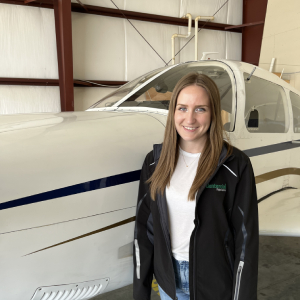 Kathrine Kuharchuk
Class Four
Kathrine started training at Centennial in 2017 and has since completed all her licenses and ratings here. She always had an interest in education and especially the technical aspects of aviation, leading her also to a mechanical engineering degree. When not flight instructing, she works in an engineering role in the aerospace industry. Kat is excited to share her enthusiasm for all aspects of aviation.
Centennial Flight Centre Inc.
Building Hangar 42
Villeneuve Airport
Sturgeon County, AB, Canada
T8T 0E3